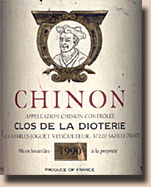 Anticipating our upcoming issue on the Wines of the Loire [excluding Sauvignon Blanc, which was covered in Report #17 of the International Wine Review], I decided to try the bottle of 1995 Clos de la Dioterie, produced by Charles Joguet, that's been sitting in my cellar for way too long. Despite Joguet's prediction that this wine would peak in 2010, I was skeptical. After all, I've opened many wines younger than this with quite disappointing results.
As the name indicates, the Clos de la Dioterie vineyard is comprised of old Cabernet Franc vines, 70+ years old. This particular wine was made by Charles Joguet himself, prior to his retirement in 1997. I remember the visit Mike Potashnik and I paid to Joguet in the Loire in 1995 towards the end of his wine-making career. We entered an old cellar dug into the hillside, where Joguet retrieved bottles of the 1990 and 1993 Clos de la Dioterie, which we proceeded to taste along with his Clos du Chene Vert and Les Varennes du Gran Clos. My notes show that the 1993 vintage of Clos de la Dioterie had a prominent poivron note at the time. The 1995 now shows none of that.
1995 was an unusually good vintage for red wines in the Loire, and this bottle shows it. The natural high acidity of the wine has preserved its freshness, although it has acquired an exuberant earthy character not so apparent when younger. Its color is light garnet ruby with aromas of dried cherry, earth and underbrush. Despite its light color, there's a lovely depth and complexity of flavor on the palate. Its acidity is a bit too high for simple sipping but makes it a great accompaniment with the right dish [e.g., veal]. All told, this is a delicate yet elegantly powerful wine that has aged very gracefully. If only I had put away a case of it!